The first gym I joined is Clark Hatch Fitness Center, located at Subang Sheraton Hotel. I signed up there because of the 7-minute drive from my house. Went for a free trial before I signed up.
Back in the year 2003, I remembered I paid about RM400 as a joining fee and RM110 for the monthly membership fee (home based).
This is the Smith machine which I learn to do squat for my quadriceps, calves raise and bench press for chest. In fact, I first did my first pull up workout using this machine for about six months until the club has bought a special pull up machine.
The gym is surrounded by trees and a beautiful garden out there. At the garden, you will see birds and even squirrels running around if you are lucky.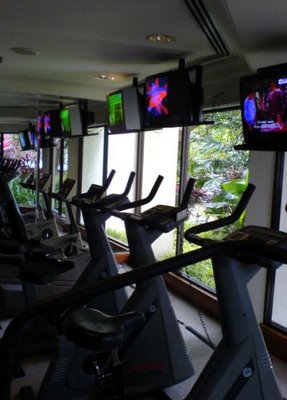 The bikes which I never use. The club also has four treadmills and four cross-trainers. Since I remember all the numbers, you can imagine how small the club is.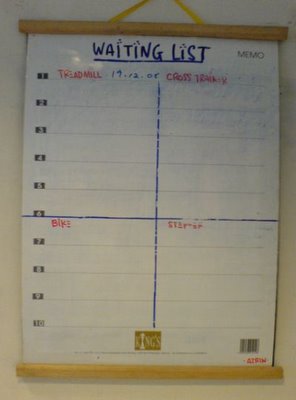 This is the board for members to put their names on the waiting list. Because most members tend to go to the gym during peak hours and not many cardiovascular machines are available, in order to ensure everyone has the chance to use the machines, the member is limited to a maximum of 20 minutes. This rule will only kick in when someone put his name there. During non-peak hours, the member is allowed to run until his balls drop.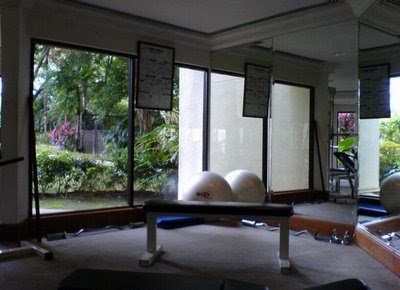 The area where I did my stretching and crunches for my abs. Really like the mirrors on the wall, not because I wanted to look at babes (no babes in Clark Hatch anyway), but those mirrors were really helpful for me to look at the postures when I was lifting weights.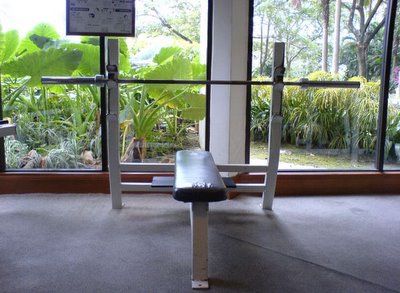 Yes, barbell bench pressing. After getting used with the Smith machine, I used this. When I first started, no weights were attached at both ends.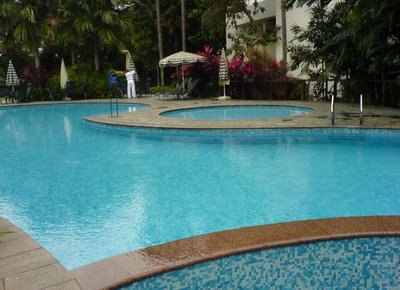 One of the pools.
The place where I used to do my reading on lazy weekends.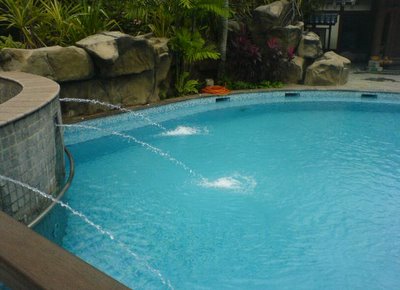 Another pool. Also, a smaller pool for kids. The club is actually sharing the pools with the Subang Sheraton Hotel. Therefore, during weekends, occasionally, the pools are crowded.
What I Like:
This club provides towels, socks and even T-shirts as well as shorts without additional charge. If you are going for a swim, you can ask for an additional towel.
Members do not have to bring their own padlocks to secure the locker.
The place is quiet, especially after 8 PM. I used to work out after peak hours to avoid the crowd.
The staffs are very friendly. They remember the members' names.
Lots of seasoned gym goers started their workout at Clark Hatch, much earlier before the invasion of modern clubs. The instructors will help kick start your workout program without asking for money for the first 2 sessions. Every 3 months, you can ask for a review and they will modify the program accordingly.
If you like no-frill or no-nonsense club with straight forward membership package, this will be the club for you. You will not find hard-sale sales people here.
Things To Take Note:
Clark Hatch has been losing number of good instructors to the new fitness centers. Two of those I knew, one has left to join California Fitness and one is attached with True Fitness.
Some of the machines are quite old and you probably will not find the latest gadgets or equipments there. However, all machines are maintained pretty well and they all are in working conditions.
Also, it does not have any dance classes or fitness classes like Body Combat, Body Pump or Body Jam classes.
It opens 365 days a year, but, it opens till the latest at 10 PM on weekday and 8 PM on weekends or public holidays.
You may be disappointed with the limited space available in this gym. Excluding changing rooms and sauna, the total workout area is less than 1,500 square feet.
I left this club in year 2005. I have always wanted to join some fitness classes and yoga whereas this place did not offer any. Also, as only limited machines and equipments are available, the workout routine has been very boring and can be quite frustrating when the only pair of 20 lb dumbbell was hogged by someone.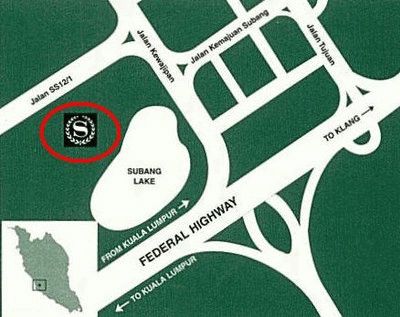 However, this gym is still a very good place for beginners, especially for someone who wants to learn basic weight training skills. I highly recommend it for serious gym-goers.