All this while, I thought most golfers just have to focus in their skill in swinging the clubs. Why? Golfers don't have to run. They don't have to jump. They don't have any body contact with other players. Just swing the clubs.
Really that easy? Not really. Two years ago, my friend has already told me that Tiger Woods actually does weight training. However, that time, we could not have any solid proof. Fortunately, I came across an interview article last week and it is true that Woods spend lots of time in gym.
Wait, who is Tiger Woods?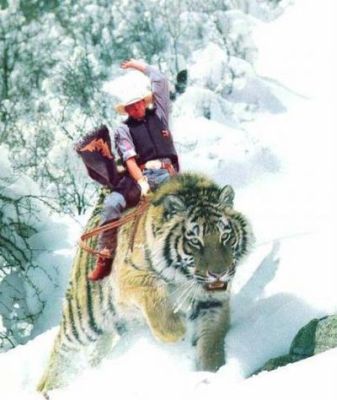 Nope, not a real tiger.
Tiger Woods is an American professional golfer whose achievements to date rank him among the most successful golfers of all time. Woods was the highest paid professional athlete in 2006 with about $100 million from winnings and endorsements.
After 31-year-old Tiger Woods won his 13th major at Southern Hills in August 2007, he said this, "Other guys have gotten tired. You see their shoulders slumping and dragging. I feel fine. You should always train hard and bust your butt. Not everyone considers golf a sport and they don't treat it as such. They paid the price."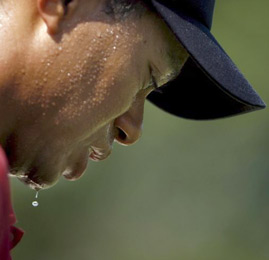 This championship in Oklahoma had the hottest conditions in major championship history, with temperatures reaching 39 degree Celsius during the final round. At least 264 people were treated for heat exhaustion. The ability to stay focus for the 4-day tournament was paramount. Woods believes that his renowned fitness has given him an edge in golf's biggest events.
Yes, Woods' effort working out at gym differentiates himself from others. Therefore, many amateur golfer wants to learn about his workout. They all think that it must be some special program that is never been done before. To make things more mysterious, Woods never talked about his gym workout openly. It was one part of his very public life that he kept private for many years. However, in Men's Fitness July 2007 edition, he finally shared with us.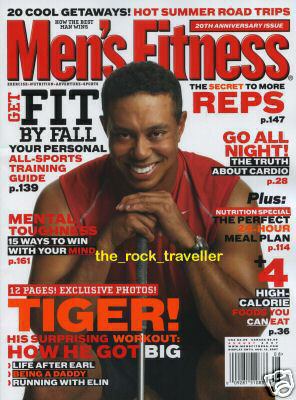 Even after being a father, Tiger Woods actually still finds time for workouts at gym as many as six days a week. His trainer, Keith Kleven, disclosed that Tiger Woods has gained about 30 pounds of muscles for the past 10 years. In 1996, Woods was 6-foot-2 and 158 pounds. He tried to gain weight, but his father told him that family history suggested he would not be able to do so. Even Woods continued to lift weights, results were not obvious. However, the change occurred about the time he won the career Grand Slam in 2000 at age of 24. He was delighted that he finally felt strong and all his hard work has paid off.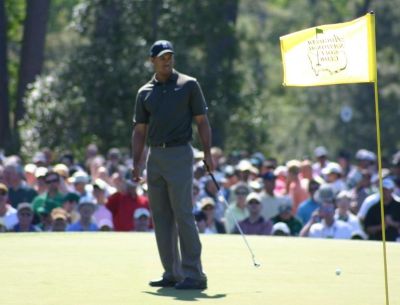 Tiger Woods' workout regimen at gym:
1) Cardiovascular warm-up exercise (30 minutes) including treadmill, stair stepper or bike.
2) Total body stretching focusing on the muscles of the legs and trunk. A trainer assists him with physical therapy to help his body to prepare the joints for the rigors of swinging a golf club.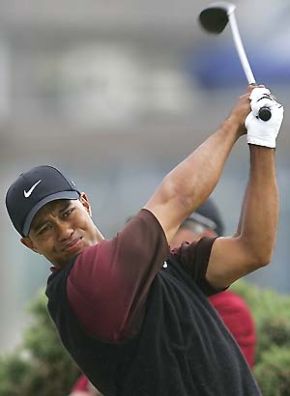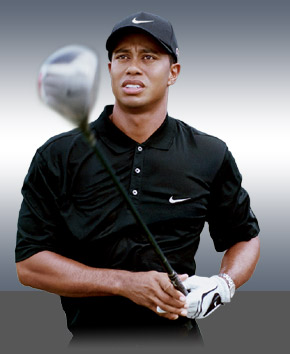 3) Core exercises (focusing in posture and balance)
These exercises are performed to strengthen the muscles that stabilize his body. Core training involves keeping the torso in place while taking his limbs through different movements. This workout helps to improve the muscles of the abdomen and back. These muscles are the key muscles needed for the twisting the body withstands during the golf swing. For example, Woods may sit on the medicine ball and perform dumbbell curl while trying to maintain his balance on the ball. He may also anchors long rubber bands to fixed positions and performs movements similar to the golf swing.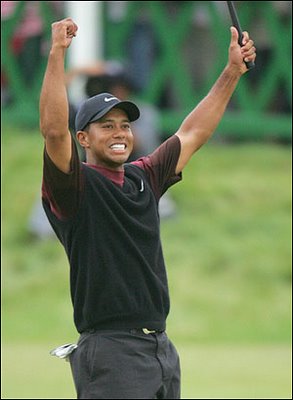 4) Endurance runs of seven miles (11 kilometers) and speed runs of three miles (five kilometers)
5) Weight training
Now, this is the most interesting part. On high-intensity days, he lifts 80 percent of his maximum weight doing exercises such as the bench press, the shoulder press and squats.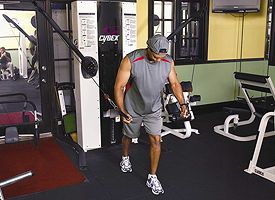 Keith Kleven did not disclose how much weight Woods is doing, but rumor said that Woods was bench pressing about 300 pounds (about 136 kilogram). Many doubt so. Yes, I do not think that he ever did that. Even if he does, he should not do it often. That load would put his shoulder joint at the risk of getting injured. Not a risk he is willing to take that might ruin his career.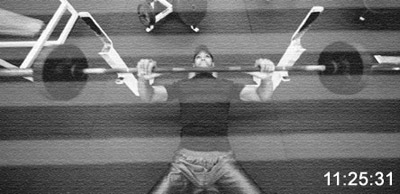 Spy shots taken when Tiger Woods are doing bench press.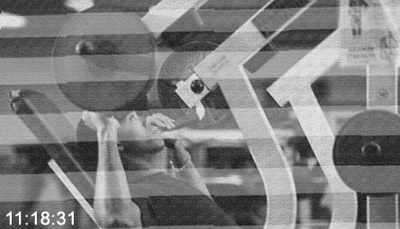 Tiger Woods trains with weight machines, free weights, dumbbells and medicine balls. However, what Woods does differently from a typical weight lifter is that he tries to perform various exercises in movements and positions that mimic the golf swing. He works on his golf posture and grip strength by lifting dumbbells. Since the golf swing is a very dynamic movement, I suspect that most of Woods' exercises are done that way and not just sitting doing isolation exercise for individual muscles.
Tiger Woods said that he does not have any ego in the gym. He believes that it is important to listen to his body when comes to pushing weight. Therefore, he never hurt himself by taking too much load. It is no surprise that he opts for high repetitions with smaller weights. These workouts include leg-press (with machine) and biceps-curl (with machine too) nowadays.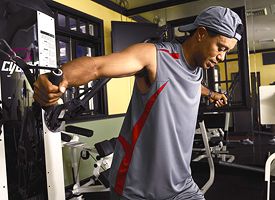 5) Cool down
Woods stretches again to cool down.
Some people are saying that Tiger Woods is taking steroid to be that muscular. May be these people just refuse to believe that the world richest golfer is working at gym hard to be in shape.
I do not play golf. Not a fan of Tiger Woods either. However, let's agree that Tiger Woods is a champion. I hope that we can learn from a champion and not to discount his achievement by accusing him taking steroid. In fact, his physique is attainable by almost everyone, provided we work out like him consistently.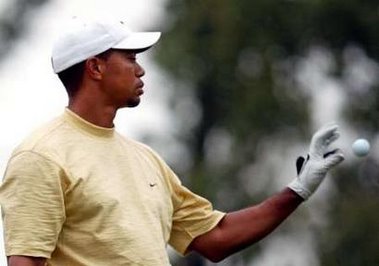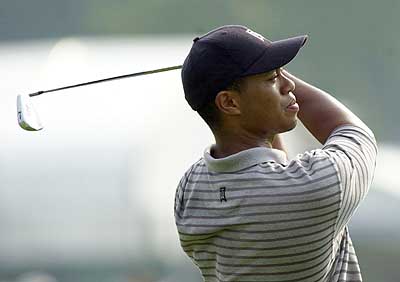 Some people also said that, "Hey, we all can build a physique like Tiger's. Not that tough." Yes. However, bear in mind that Tiger Woods is already 31 years old and to maintain the smooth range of motion on his swing while gaining that strength and mass, is just impressive. Don't you agree?
Physical fitness is always a huge advantage in any sport. The fitter you are, the better you are in winning the games. So, the next time you see Woods winning another trophy, just remember that this guy trains hard at gym too. As he said, "I bust my butt to stay in shape."
No joke, every champion works hard behind the scene.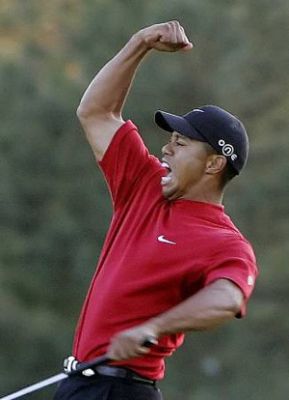 Check out another article on How to Really Improve Your Golf Games (with workout at gym)?