I first went to California Fitness at Mid Valley in August 2005 when I was looking around for a good gym. Two years later, when I went back there. Nothing much has changed. So, the review I did two years ago is still valid. Here you go for the write up.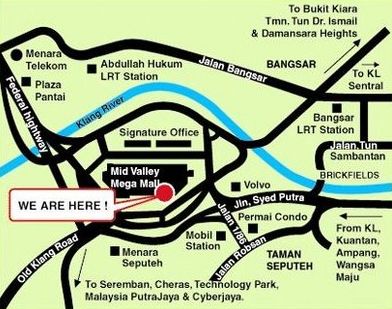 Location map of Mid Valley Mega Mall
It was a public holiday. Traffic was very smooth when we drove from USJ to Mid Valley. Took less than 20 minutes to reach there, but still have to spend about 10 minutes to get a good parking. Damn, as early as 10:30 AM, tourists and shopping crowd were already there.
Went all the way up to third floor at North Wing. Greeted by this sign board.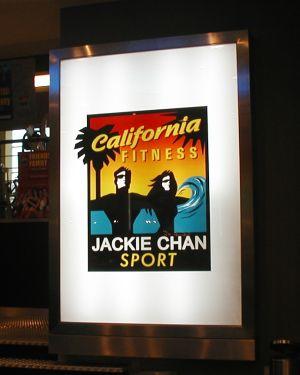 The official name of the center actually should be California Fitness Jackie Chan Sport.
The truth is – In early year 2005, California Fitness has inked a partnership with Jackie Chan to create a chain of California Fitness Jackie Chan signature fitness centers. The first California Fitness Jackie Chan Sport in Malaysia held its Grand Opening in July 2005.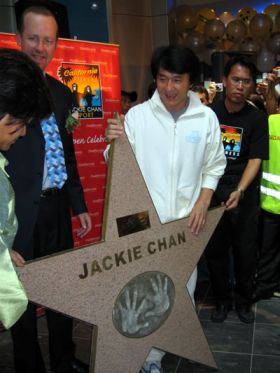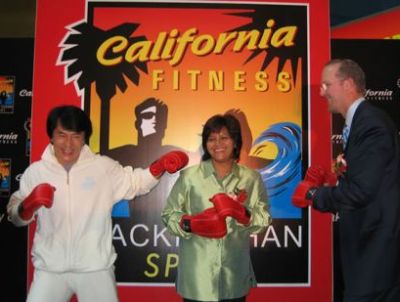 As we have registered online for the free trial, showed the receptionist our coupon number. Told him we needed lockers. Couldn't believe him when he said that we had to buy our own pad locks. It is like asking me to buy my own ketchup when I eat in McDonald's.

No choice, got my pad lock for RM8. Given a temporary pass which I needed later to exchange for towels.
Second surprise, the center did not have enough sales person to entertain us. Neither did it have any personal trainer to show us around. Was told more than fifteen guests were visiting the center. The crowd came as early as 8 AM!
Anyway, we told the receptionist we would explore the center ourselves. Proceed to the towel center. Each of us was given one small towel and one big towel. Was glad that we were not asked to buy the towels.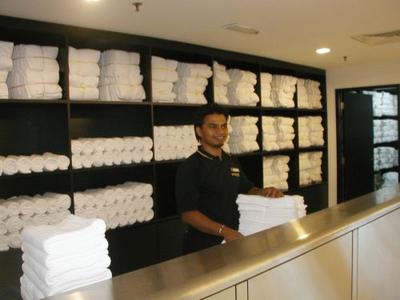 The male changing room, it is amazingly huge. Based on my calculations, more than 500 lockers are there. One area for taking shower, one area for drying hair and one area is toilet.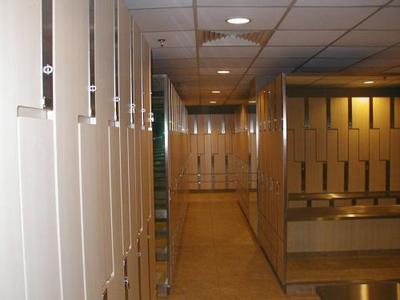 After changing my clothes, went to the stretching area which was at the first floor. Saw these two (cages look alike) stretching machines.
Standing from the first floor, the view is amazing.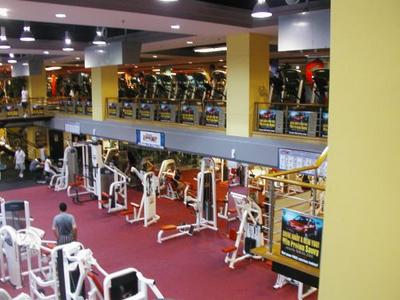 Decided to run for 10 minutes to warm up. More than 30 treadmills are there.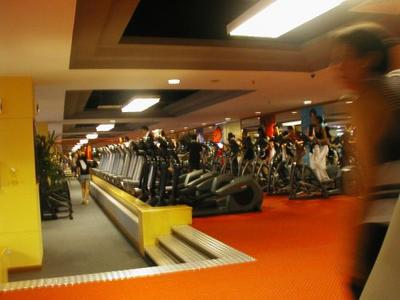 At the other side of the first floor, another few more machines are there.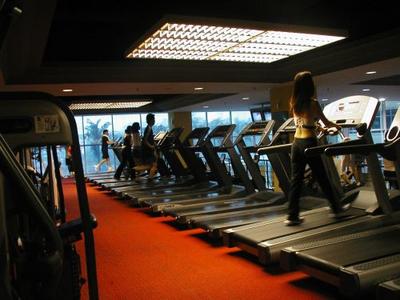 After running non-stop for 10 minutes, I took a rest. Walked to the other side of the first floor and saw a kick-boxing area. The instructor was having one-to-one training session with a lady.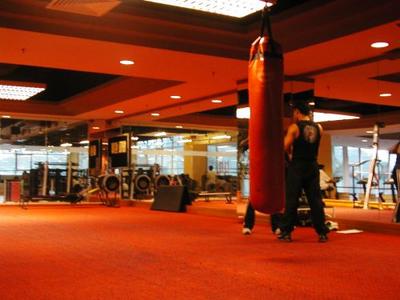 Walked to other side, and saw a class was going on.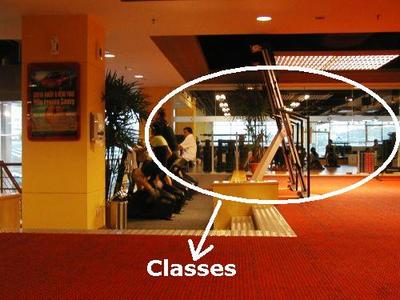 I think the club is spacious and the air ventilation is good.
Went to ground floor. Decided to do only exercise for my back and triceps.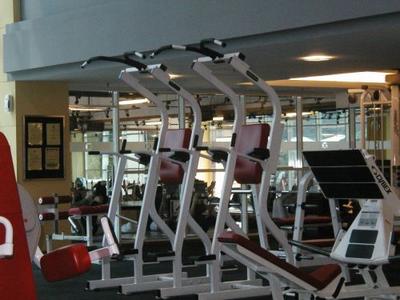 I like the free weight area. It has every thing I normally use.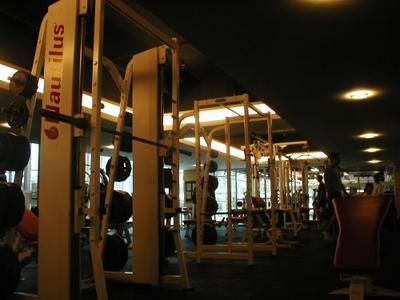 It even has an outdoor basket ball court too. Not bad. Wish it would have built a Futsal court there.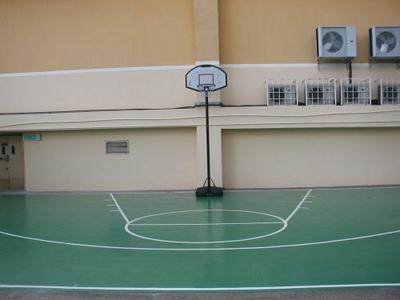 If you are lucky as I did, you will see babe in bikini. However, she left before I had a chance to talk to her.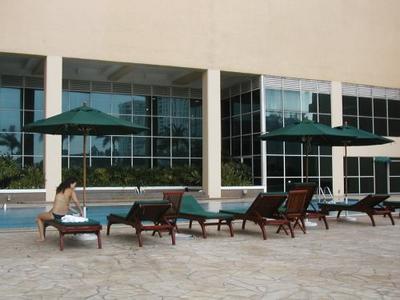 The pool was clean. The size is what I have expected.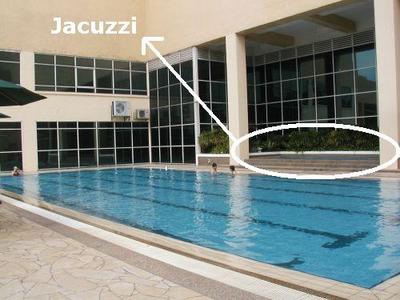 Did not bring my swimming trunks along. Sigh.
On the way to take my shower, saw this huge poster on the wall, outside of the male changing room. Look as if Jackie Chan is trying hard to convince me with his philosophy.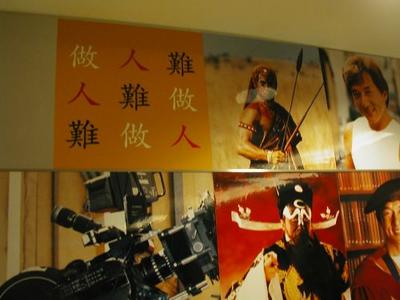 Jackie's achievement in his entertainment career.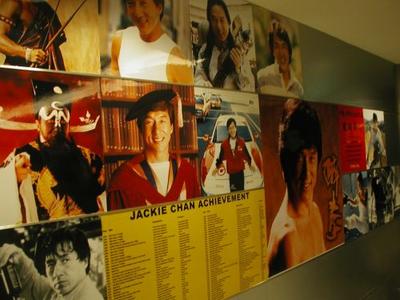 I am not sure whether Jackie represent the legend of dragon. How about Bruce Lee?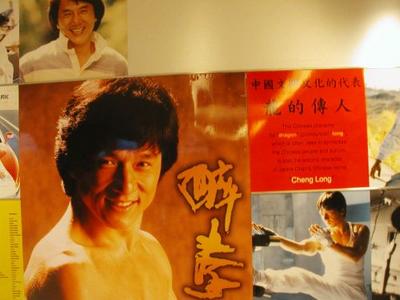 Some other facts you may want to know about this club at Mid Valley:
The gym used to be Sweat Club before California Fitness took over.
Only plain water is available. You won't be able get 100 Plus, Coke, Chiva, Jack Daniel or wine.
The ratio of male and female members is 1:1, whom I saw that day, is pretty even.
Was told it is 55,000 square feet (it was the largest gym in Malaysia before True Fitness came in later.)
Separate Male and Female Sauna and Steam Facilities (I forgot to check this out)
Complimentary shower gel, shampoo, conditioner, lotions and use of hair dryers provided
Hours of operation:

Monday to Saturday: 6:30 AM to 12 AM
Sunday: 7 AM to 10 PM
In my second post of the review, I shared with you what I think about this gym and other things to watch out.