A new footwear, invented in the UK, does not only protect our feet, but can also do wonders too nowadays – to improves posture, tone calf muscle, trim and firm up butt.
Sound too good to be true? Read on.

A company in the UK has creatively created this unique footwear called FitFlop. By wearing it on your feet, you are actually working out your legs and butts when you walk. The company even has the tag line "It's the flip flop with a gym built in".
This so called fitness shoes come in UK whole sizes 4 to 8, red and black with limited edition in blue. The retail price is about £40 for a pair. You can buy a pair of Nike sport shoes with that price.
Despite the high price tag, many ladies, be them in the UK or US, are crazy over Fit Flops. They have to make pre-order and wait for few weeks before getting them. Probably a well planned and cleverly managed scarcity to create the craze.
The idea for the FitFlops came from Marcia Kilgore, founder of health spa company Bliss Spas. She has always wanted fitness shoes that mimic the effect of walking barefoot. The science came from biomechanical engineers Dr David Cook and Darren James from the Centre for Human Performance at the South Bank University in London.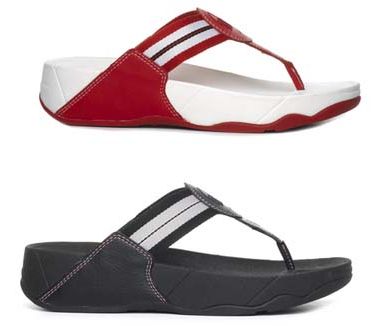 You may guess that these shoes must be heavy and therefore making the leg muscles work harder. Not really. They are light, only around 400 gram per pair.
So, how this footwear achieves those benefits claimed by the inventors? Here is what I summarize from what they said:
"Fit Flop has a multi-density midsole. It slightly destablises the foot as one walks, making a continuous tension in the muscles of the foot and leg. It activates the slow-twitch muscle fibres in the legs and that muscles fibres which are the fat burners in your legs.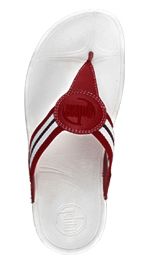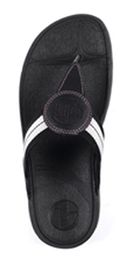 So, every step you take, FitFlop actually improve your core muscle strength, absorbs shock on your feet, knees and back, encourages better posture and stronger muscles and burns calories.
They can help reduce cellulite and slim and tone your thighs and get you that much closer to having longer, leaner looking legs."
Interesting, but are these statements convincing enough?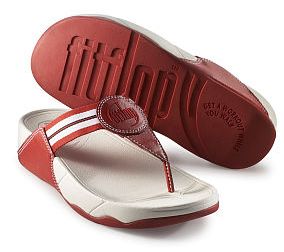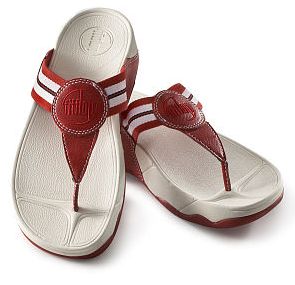 If you are thinking of seeing greater effect by wearing Fit Flop in anywhere you go and everything you do. You better not. The company has clarified in its website that Fit Flops may not be suitable for :
People who wear them for hill walking or mountain hiking
Pregnant women
People who wear orthotics
Also, use FitFlop progressively to avoid excessive muscle soreness. They are designed for everyday walking. Not for sports and don't wear them when you sleep!
As for men, the company plans to come out with a design meant for guys. If all goes as engineered, you will see them in Spring 2008.
If you are going to London for holidays, may be you should consider having Fit Flop in your shopping list. But, I believe that it is just a matter of time Fit Flop will reach this region.
I am glad that the company has actually mentioned that FitFlops are designed to be worn by busy people who may not be able to get to the gym, but want to make sure they get a 'workout while they walk'. Time will tell whether these shoes going to the long term weight loss solution for people who are lazy to work out.
If you are interested to find out more or get yourself a pair, you can now purchase it online from Amazon.