One of the main reasons I left Clark Hatch for True Fitness is because of Les Mills classes. I have always curious about these classes, especially Body Pump. What made me curious is how the 1-hour class can be conducted with compelling choreography. So, I attended Body Pump on the first day I joined my new gym.
What is Body Pump? Wonder why the inventor did not call it Body Inflate or Body Pop. How about Body Bomb or Body Hard? Why the sky is blue?
OK, back to the topic. So, are you tired of working out alone?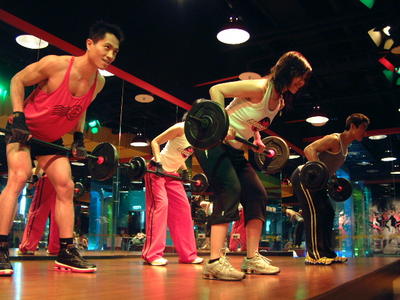 Now, you have a choice – weight lifting exercise in big group. Body Pump is a mixture of aerobic exercise with weight lifting training. According to Les Mills website, Body Pump can help you to:
Burn between 250 and 600 calories per class (depending on your effort)
Improve strength
Shape and tone muscles
Improve bone density (helps ward off osteoporosis)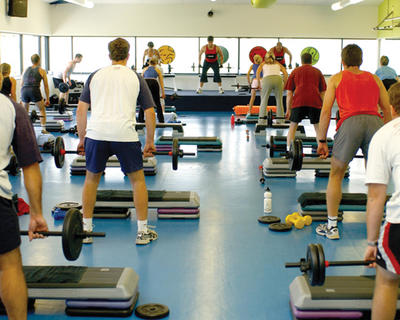 My First Body Pump Class
When I first entered the class, was shocked to find out that ladies outnumbered guys. Before the class started, like everyone else, I first took a platform (use as a bench), a bar and some weights. Once I felt that the weights were like plastic material, I was wondering whether guys can get a real workout with them. I have been doing weight training for close to two years, so, I took some heavy weight. Also, I told myself I better took more weights than the lady beside me. This choice was a big mistake indeed which I will share with you why.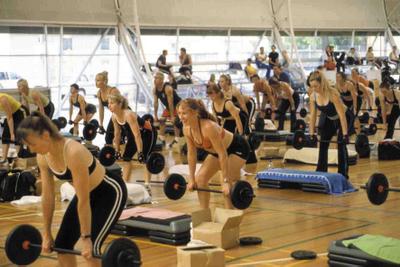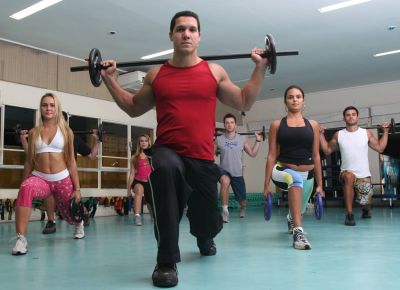 For the 1-hour class, all the major muscle groups are worked out, from the warm up through legs, chest, back, triceps, biceps, shoulders and abdominals, before the stretch and cool down. Each exercise lasts the length of one track of music (which is about 4 to 5 minutes), with pauses between tracks used to alter weight levels. Every exercise was wrapped up with a well deserved stretch to help with muscle recovery.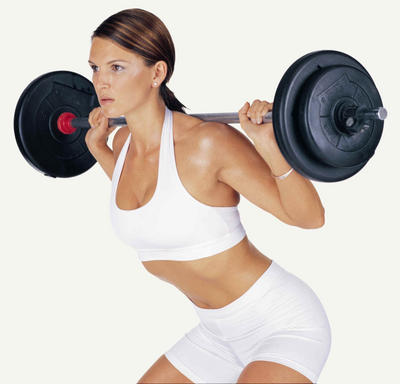 After few classes, I realized that Les Mill has 45-minutes class too – eight-track format is used, omitting the triceps and biceps tracks.
Though with a pause between each track, I had to admit that my first class pretty challenging. Normally, for my weight training, after a set, I will take my time to rest before proceed to next set. But, in the class, I had to start lifting again once the instructor started doing it. Therefore, during my first class, at the end of the bicep curls track, my biceps almost exploded and they hurt so much. So, light weight is a better choice.
You may hear some jargons mentioned by the instructor. These all are Body Pump moves. Once you attended few more classes, you will know what they meant when they mentioned squats, chest press, dead row, clean and press, bicep curl and lunges.
So, I came out with my exhausted muscles all over my body after my first class. Felt good though.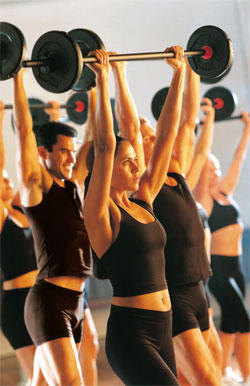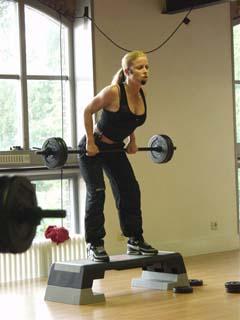 What I Like About Body Pump:
Body Pump is a strength endurance training class. Not just an aerobic exercise. If done correctly, it actually help increase muscle tone and definition .
Most of the exercises are based around weights ranging from 1 kg to 5 kg. You choose the weight that you are comfortable with. As you progress, you can continue to with increased load. On few occasions, I can even choose the exercise option, either using the bar or just the weight.
Since Body Bump involves weight training, much the same principles apply as would for strength training. Therefore, it should be done two to three times a week, with a day rest between each session. Do not attend the class consecutively two days. Let your muscles have time to rest for recovery.
If you think you will get bored with the same music, no worry. Les Mills releases new Body Pump class every three months with new music and choreography.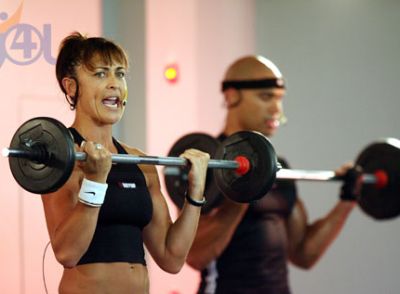 Mun's Advice:
One should focus in the forms than taking heavy weights. I went for heavy weights and failed to maintain the correct postures after few repetitions. Worse, muscles sore like hell after the first class. So, swallow your ego.

Always keep your joints slightly bent. Do not lock it out.
Perform the movements with controlled actions. Not jerky so that you will not get injured.

Do not increase your weight too quick. For beginner, your muscles adapt more slowly, but once your body gets used to it, you will see the strength gain.
Wear comfortable clothing which will absorb sweat.
Bring a water bottle and towel. I did not bring my bottle on my first time and I had to run in and out to drink water.
If it is your first time to Body Pump, arrive early so that the instructor can help you set up, show you how the equipment is used, and how much weight you should use for your first class.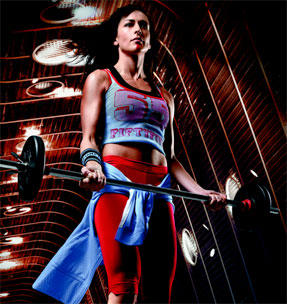 I hope that this BODYPUMP review is helpful. I encourage you to try the program and share with me what you think.
You may want to check out my review of other Les Mills fitness classes.