Clark Hatch Fitness Center in Malaysia
September 17, 2022
Clark Hatch Fitness Center is an established fitness company in Asia with more than 40 years of history. The first center was set up in Tokyo before it moved to Cambodia, China, Guam, Hawaii, India, Indonesia, Korea, Malaysia, Nepal, Philippines, Singapore, Taiwan, Thailand, and Vietnam. However, in Malaysia, the number of Clark Hatch Fitness Center has reduced from 13 to 11 centers.
I joined Clark Hatch in year 2003 and it is my first gym.
It was there where I learn about weight lifting, built my muscles and increased my weight (I was underweight then). It was also there where I know lots of friends and make some gay encounters which I never forget.
Membership Package
In Malaysia, after the exodus of its members to other gyms, Clark Hatch has tried hard to catch up lately. It has introduced new membership packages for Klang Valley members:
Titanium – Members are entitled to all clubs including the Hilton / Le Meridian KL Sentral fitness center
Platinum – Members may use Mutiara Crowne Plaza, Mont Kiara, PJ Hilton and all Gold membership locations
Gold – Members are entitled to use the centers at Crown Princess, Legend and Sheraton Subang
Home Based (if I remember correctly, it is called Executive) – Members can used only one club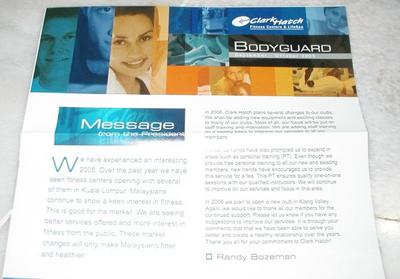 Regardless of the package, you can use whichever centers in overseas. I had Subang Sheraton home based membership. When I were in Bangkok, I could go to any of the six Clark Hatch branches in Bangkok.
As for the monthly fees, they vary from location to location. For example, the monthly fee is only about RM120 for Subang Sheraton home based package, but it can be as high as RM160 for Mont Kiara home based package. Typically, the Titanium is the most expensive and heard that it is close to RM200 per month.
Members are not forced to sign up for yearly contract. For those who can afford to pay in one lump sum for 1-year package, they will enjoy the typical 9 months + 3 months promotion during year end. In other words, you pay for 9 months and you will be given 3 months free. The joining fee is normally not waived and it is between RM300 to RM500 depending on availability of promotion too.
Marketing
Most Clark Hatch Fitness Centers are attached with hotels. Some of the hotels with Clark Hatch Fitness Centers are Hilton KL Sentral/ Le Meridien, Crown Princess, Mutiara Kuala Lumpur, Hilton Petaling Jaya, Sheraton Subang, Hilton Kuching and Sheraton Penang Hotel. It is a win-win situation for both the clubs and the hotels. The management, machines and instructors are provided by the clubs whereas the hotels have the swimming pools, laundry services (for the complimentary sports attire and towels), security guards and hotel guests.
In terms of marketing, Clark Hatch is not as aggressive as California Fitness, Celebrity Fitness and True Fitness. It does not have a dedicated sales team. The front desk person is the one who will explain the packages.
When I spoke to one of the fitness instructors, was told few members have left the club too. Most of them have joined Celebrity Fitness and True Fitness. In fact, she has been head hunted by one of the clubs. But, for the time being, she decided to stay. Reason being, she has got used to the club management and members. The company subsidizes the parking fee and it provides the meal allowance to the staffs.
I hope that Clark Hatch will be able to compete. It caters to the people who prefer much privacy with quiet environment. The market which it serves is different from others. Hotel guests and loyal members will be the supporters for its survival.